Colafit PONY
Veterinary product for joints and fur for horses
Colafit pony consists of a single component, pure lyophilized bovine collagen type I. Collagen is very important for the construction of cartilage, joint capsule, connective tissues, bone and fur of horses.
Collagen Booster - high collagen concentration of 50 mg / cube

strengthens ligaments and tendons

protects stressed joints and improves their function

ensuring the correct function of cartilage (its strength, flexibility and durability)

is replaced by increased loss of collagen

affects the quality of the fur

is suited for pregnant and lactating mares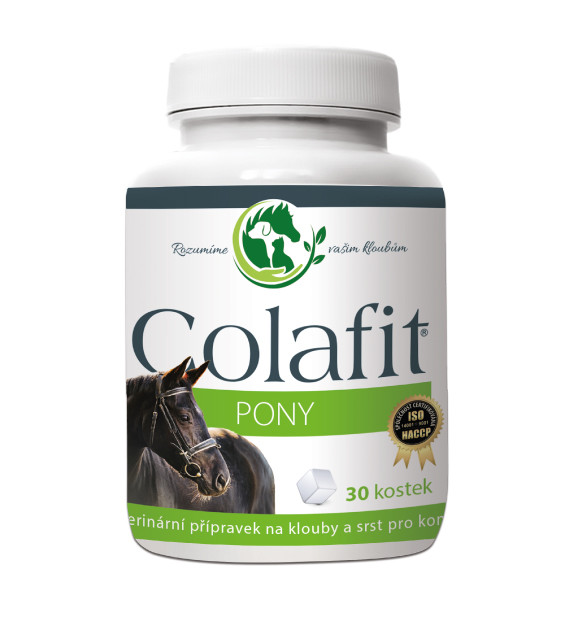 Application:
1 collagen cube per day, it can be served alone or with a piece of bread or other food.
Time of administration:
To achieve the desired effect, it is used for 2-3 months, twice a year. Prolonged administration after consultation with a veterinarian.
Warning:
The product can be administered at the same time as feeds that contain chondroprotective substances. The positive effect will increase even more. For animals only.
Packaging:
Content of active substances in 1 cube:
| | |
| --- | --- |
| Lyophilized bovine collagen type I | 50 mg |
| Approximate cube size: 18 x 18 x 8 mm | |
Store at a temperature up to 25° C in a dry and dark place. Keep out of reach of children.
Manufacturer: DACOM Pharma s.r.o., Svatoborská 365/17, 697 01 Kyjov, Czech Republic
Approval number: 040 -15 / C